Flat-water paddling on the Kayaderosseras is best from Ballston Spa to Saratoga Lake. Several access points along the way allow you to design a trip that fits your time constraints. Some portaging over log jams will be necessary during low water. Paddling in either direction works, although during Spring runoff, paddling upstream requires some skill. Be aware of your abilities and those of the persons with whom you are paddling. Shuttles can also be set up at various access points for paddling in one direction.
The Kayaderosseras is a fun paddling stream but there are hazards, especially at high water. Here are some safety tips:
Trees Down – At high water the current can carry you into the tree, tip you over and possibly trap you underneath. Stay well upstream or go to shore until you see a clear passage.
Strong Currents on Curves – Strong currents can carry you into the outside shore of curves and pin you there. Stay to the inside of curves.
Underwater Rocks or Logs – They can stop your boat or tip you over. They may not be visible but they usually make a visible disturbance on the surface. Steer around them.
NYS Law requires ~ "All boats and canoes must carry a U.S. Coast Guard approved personal flotation device (PFD) for each person on board." Good judgment suggests wearing the PFD, especially at high water.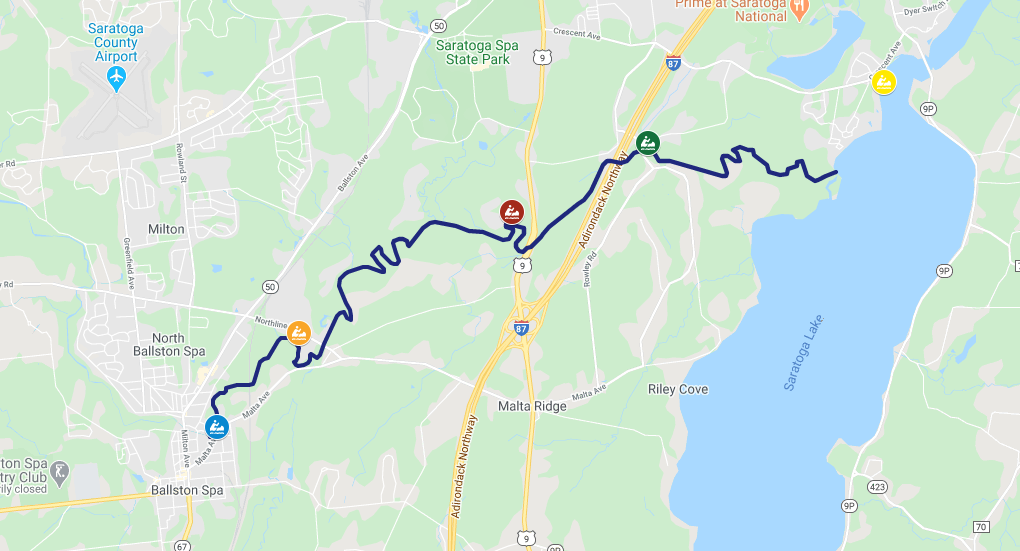 View an interactive version of this map here
Paddling Distances
Kelley Park to Gray's Crossing: 1.2 miles
Gray's Crossing to Driscoll Road Landing: 4.1 miles
Driscoll Road Landing to Blodgett Landing: 1.9 miles
Blodgett Landing to Waterfront Park: 3.5 miles
While enjoying the beautiful Kayaderosseras Creek, be mindful that much of the creek borders private land. Use designated areas to access the creek and please respect other boaters and persons fishing on the creek. All boaters using the creek are required by law to abide by New York State boating laws and regulations.